Archives
Congratulations YAC Seniors!
April 27, 2017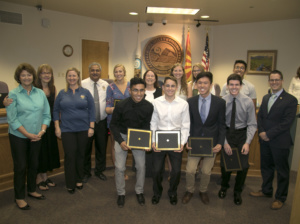 The Youth Advisory Council's outgoing seniors were presented with awards honoring their achievements and service to the community. Though they will be missed, their unique talents helped to shape and strengthen YAC. Follow our Instagram page to see where they will be heading next!
——————————————————————————————————————————————————————————-
April 21, 2016 – OVYAC High School Senior Members Recognized at Town Council Meeting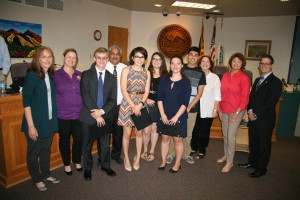 Outgoing senior members of the Oro Valley Youth Advisory Council were recognized at last night's Town Council meeting. Pictured: Sue Bishop, Jessica Hynd, YAC President Tim Falter, Mayor Hiremath, Treasurer Sophia Silva, Emily Mayberry, Kaitlyn Vlahoulis, Josh Baca, Marty Waters, Councilmember Mary Snider, Chris Cornelison.
---
YAC Member Wins Community Award
April 15, 2015 – YAC president, Charles Huang, received an award from Oro Valley Mayor Satish Hiremath as a distinguished finalist for the 20th Annual Prudential Spirit of Community Award. He was named as one of the top youth volunteers in Arizona for 2015. Congratulations!!
---
In the Media 
April 15, 2015 – Oro Valley Youth Continue to Make a Difference in Our Community.
Please read this article, published in the Northwest Explorer.
http://www.orovalleyaz.gov/town/news/oro-valleys-youth-continue-make-difference-community
---
YAC Introduction at Town Council Meeting
November 5, 2014 – the current OVYAC members were introduced to the community at the Oro Valley Town Council meeting in the Town Council chambers.  Here, the members, as well as Assistant Town Manager Chris Cornelison, Marty Waters, and Sue Bishop, posed with Councilwoman Mary Snider and Mayor Satish Hiremath.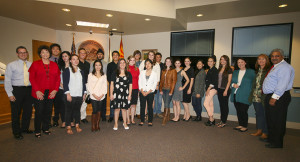 ---
Article Written by OVYAC Members
July 30, 2014 – The Explorer published an article, entitled, "What is the Primary Election at the local level in Oro Valley?" written by OVYAC members.  With local elections approaching, we wanted to better inform the public of the voting process. Click on the following link to read the article:
What is the Primary Election at the local level in Oro Valley – YAC Article
---
OVYAC's Contribution to the Future of Naranja Park
For the past year, the Town of Oro Valley has been developing a new park to accommodate the rapidly growing population. Over the past few months, a number of surveys throughout the community have taken place in order to help solidify what the remaining undeveloped land will be used for. This issue was brought to the Oro Valley Youth Advisory Council's attention by members of the Town Council looking for input from the younger population of the Town. Instead of simply giving the opinions of our members, OVYAC completed our own survey of the youth at our Dive-In Movie Night.  In total, we had around 75 teens vote on what they wanted to see built in Naranja Park.  In doing this, we were able to more effectively portray the opinion on the town's youth.  We are looking forward to seeing Naranja Park completed in the next few years in a way that all age groups can enjoy.